Mindset Sunday Reading 1/8/23
Interesting Reads for your Sunday
Cannabis news and links:
Glass House (OTC: GLASF) issued preliminary guidance for Q4 at the high end of its guidance range and notes that California pricing has started to increase. Glass House is one of my largest investments.
Thanks for reading Mindset Value! Subscribe for free to receive new posts and support my work.
"Local legislators in California's third-largest city have already voted 10-1 to approve an ordinance reducing zoning barriers to opening new cannabis shops." There is a shortage of retail dispensaries in California, including in the city of San Jose (population of 1.8 million). This article is a positive for the California cannabis industry.
First large scale study of its kind by NBER showing that wages and employment actually increase upon legalization of cannabis and there is no real downside to people's economic wellbeing.
Maryland could be a really great legal market for cannabis. Why? On average people in Maryland smoke more cannabis than average.
More on Maryland, which recently voted to legalize adult use of cannabis: "They projected that Maryland can expect to hit $1 billion in adult-use marijuana sales within 20 months of the market launching. The study also reached the conclusion that the effective tax rate for cannabis should not exceed 20 percent, and the state should open at least 300 dispensaries, in order to effectively transition consumers to the regulated market." For disclosure: I have investments in MariMed (OTC: MRMD) and Goodness Growth (OTC: GDNSF) and Maryland's legalization should have an outsized positive effect for both companies which have licenses and operations in the state.
Minnesota has started work on legalizing cannabis and leading state lawmakers made encouraging comments that they want a functioning cannabis market first and foremost. If true, this should bode well for the only two operators in the state: Green Thumb (OTC: GTBIF) and Goodness Growth (OTC: GDNSF). A reminder that I own Goodness Growth.
youtube.com/watch?v=Hp7LxD…
"The point of this is not to raise revenue for MN. There are many reasons to legalize cannabis. Tax revenue isn't one of them. Our goal is a stable market. High taxes undermine our intent to move from an illicit to a regulated market." -
@zackstephenson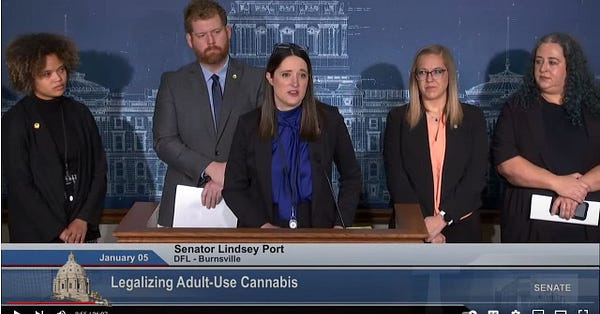 youtube.com
Press Conference - Legalizing Adult Use of Marijuana
Senator Lindsey Port, Representative Zack Stephenson present their proposals legalizing adult use of marijuana.
Misc Links of Interest:
Great thread on how most companies whose revenue stalls never recover:
Hirequest (NASDAQ: HQI) is one of my largest investments. The CEO, who already owns over 40% of the company, bought shares on the open market. This is the second recent insider buy. A director bought shares in late December as well.
Funny links:
Thanks for reading Mindset Value! Subscribe for free to receive new posts and support my work.